The Racecourse Hotel, Salford, is undergoing a full restoration of the exterior, replacement of all oak, Commercial Building Renovation Project, work being carried out by Oak Carpentry Lancashire
The Racecourse Hotel and pub is an impressive landmark oak framed building, situated on the banks of the Irwell, Littleton Road, in the city of Salford. Built in 1930, the decorative carved oak framing gives this pub a charming and historic appearance which is well worth preserving. Over time, due to design flaws, the oak framing has deteriorated quite badly and succumbed to wet rot. Oak Carpentry Lancashire were selected for the job of restoration and are now working full time to restore this interesting building to ensure it has a future. The old oak frame will be replaced with new oak. The old timber frame is being copied faithfully to ensure the new oak frame looks as good as the original did when it was first fitted. The new fully carved finial which supports the barge board and the new centre corbel have been produced using traditional carpentry skills.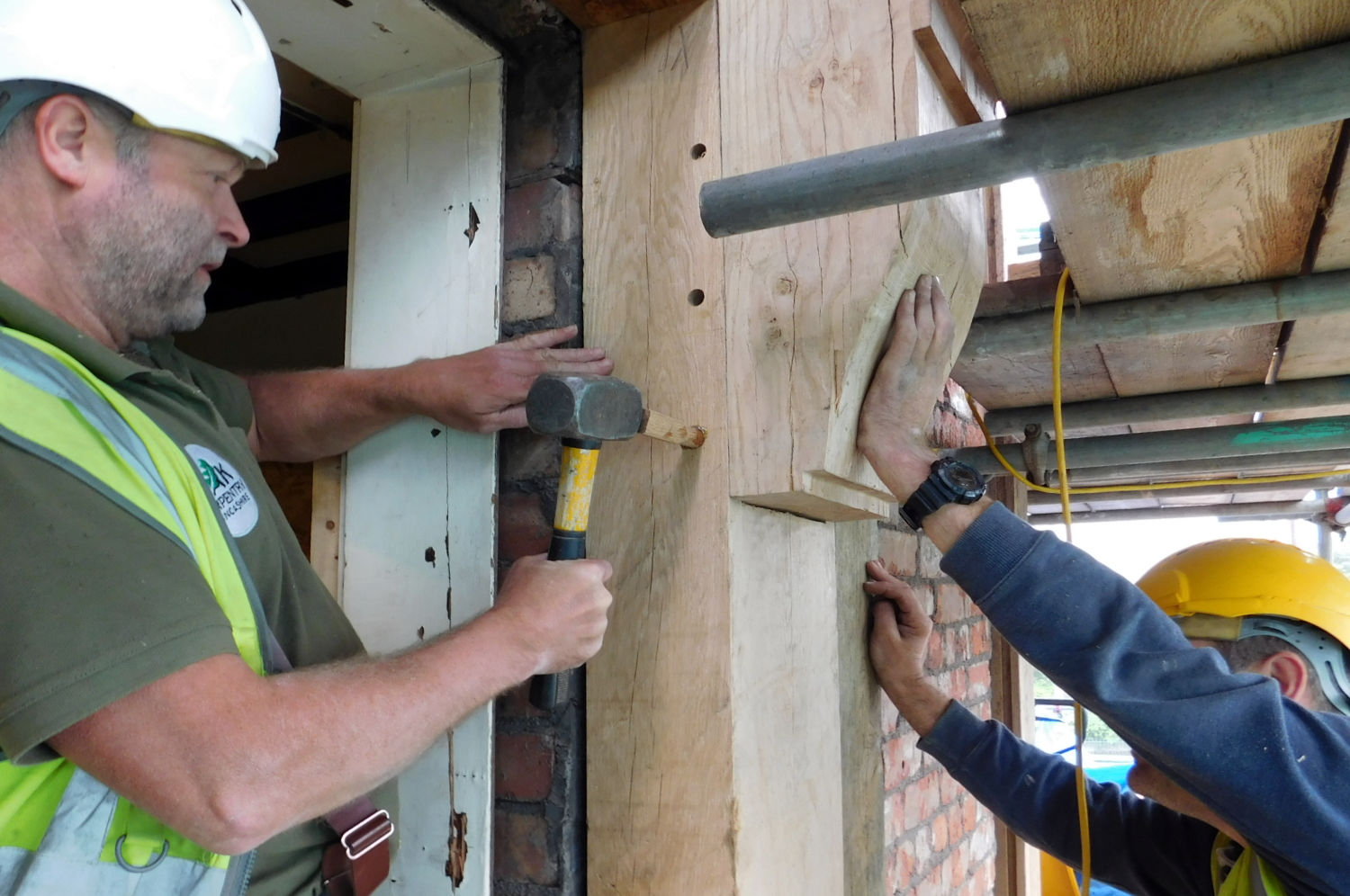 The use of traditional carpentry skills are necessary for such a project to be successful. The proven techniques for constructing oak framed buildings come from 'Tudor' times. All of the mortice and tenon joints are properly proportioned at one third the thickness of timber and 'draw-bored' using an ancient off-set hole and tapered peg technique to tighten and secure the joints with seasoned oak pegs.
The outer surface of the oak is finished with either a spokeshave or adze to give a beautiful rippled effect and remove any twentieth century saw marks. This is then left untreated to turn a natural silver colour which is the best protection the oak can get.
The photos uploaded to the gallery reveal how the huge pieces of timber are being installed and how the intricate carvings neatly slot into position.
More photos will be added at regular intervals, so check the gallery again if you want to see how the work is progressing!